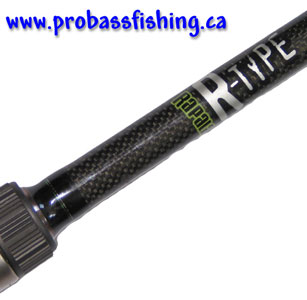 I've always used and trusted Rapala throughout my fishing years and I must say their new R Type rods are a great addition to my Bass fishing collection!
The Rapala R Type rods are nicely balanced, strong and light. You no longer have to spend a fortune for these important rod characteristics because Rapala made it affordable. It was designed by Canadian anglers for Canadian anglers and the kind folks at Rapala made it happen. I think these rods are going to be a big seller because they sure sold me on them. They felt great while Pike fishing thus far and with Bass season just around the corner; let's just say that I know which combo will be throwing the grubs this coming month!
While working the fishing shows this past winter trying to fit young and old anglers with a rod, I leaned towards the Rapala stand to fit their budget. The first time I put the medium heavy R Type casting rod in my hands I was quite impressed and confident anglers would enjoy using them; I know I was going to!
The Rapala R Type casting rod moulds to my grip for a true strong hold, and that's an advantage out on the water. Remember, comfort is important and Rapala R Type rods have that covered, as well as, strength to boost our confidence. Try one for yourself and you will be impressed too! I have found a rightful place for them in my rod racks next to the Steeze collection!